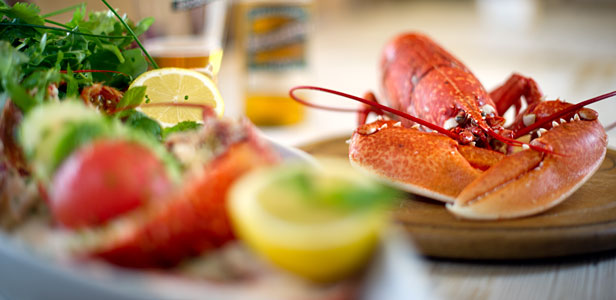 The Specials Menu
The Specials Menu changes regularly offering interesting, varied and seasonal delights.
FISH BOARD SPECIALS
PAN FRIED FILLET OF GUERNSEY TURBOT
WITH PRAWN & HERB BUTTER, SERVED WITH NEW POTATOES
£17.95
HALF A GUERNSEY LOBSTER
WITH SALAD AND NEW POTATOES
£15.95
KING PRAWN MADRAS
SERVED WITH RICE AND GARLIC NAAN
£11.50
SEA SALT & BLACK PEPPER CALAMARI
STARTER: £5.95 / MAIN; £10.95
MOULES ET FRITES
(MARINIERE OR A LA CREME)
£11.50
MEAT AND VEGETARIAN SPECIALS
BEEF & MUSHROOM STROGANOFF
SERVED WITH RICE
£12.95
LINGUINE CARBONARA
£9.95
STEAK AND LEEK PIE
SERVED WITH MASHED POTATO AND PEAS OR MIXED VEGETABLES
£11.50
ROAST LEG OF LAMB
WITH ROAST POTATOES, VEGETABLES AND GRAVY
£9.95
CHICKEN OR VEGETABLE MADRAS
SERVED WITH RICE AND GARLIC NAAN
£11.50/£9.95
SHARING PLATTER
HAM HOCK TERRINE, PARMA HAM, PATE, CHEDAR, PORT SALUT, CHUTNEY AND CRISPY BREAD
£12.00
Table reservations please call: 710885
Lovely Stay
This was our second stay at the hotel and we would highly recommend it. The staff are efficient and friendly. The hotel is really clean and our bedroom was cleaned daily with fresh towels on request. We had a view of the garden and the sea. The food is excellent and we decided to eat there on three of the five nights during our stay.
TripAdvisor Review

Guernsey activities
There is always something to do in Guernsey. From visitor attractions to kayaking and surfing. Visit the nearby islands or join in with one of our Heritage, Cultural or Food festivals.

Free car parking
La Piette has car parking right outside the front door. Extra parking is available 200 metres away. All parking is FREE. Reception can also arrange car or cycle hire on your behalf.