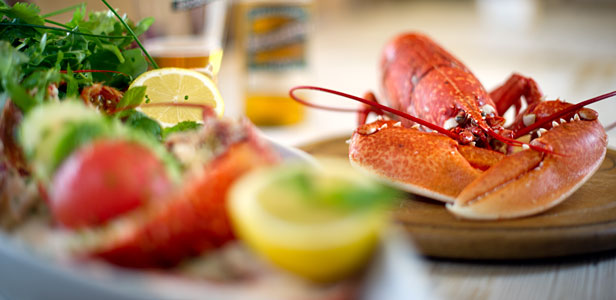 Sample Specials Menu
The Specials Menu changes weekly. Please contact the hotel for details..
FISH BOARD SPECIALS
TIGER PRAWN TOM YUM WITH RICE AND PRAWN CRACKERS
£9.95

COLD POACHED SALMON PAVE WITH WHITE PUDDING, ORANGE SALAD AND NEW POTATOES
£9.95

PRAWN AND GUERNSEY CRAB SPRING ROLLS
£9.95

CRISPY CALAMARI WITH SZECHUAN PEPPERCORN SALT
£5.95/£9.95
MEAT AND VEGETARIAN SPECIALS
SPICY CHICKEN PENNE PASTA WITH FRESH HERBS, GARLIC OIL AND SHAVED PARMESAN
£9.95

BRAISED STEAK, ORANGE AND TARRAGON PIE WITH MASHED POTATO AND PEAS OR MIXED VEGETABLES
£9.95

ROAST PORK LOIN WITH HANDMADE APPLE JAM,CRACKLING,ROAST POTATOES AND VEGETABLES
£9.95

VEGETABLE BIRYANI WITH PILAU RICE AND NAAN BREAD
£9.95

SLOW COOKED BRISKET OF BEEF WELLINGTON WITH DAUPHINOISE POTATOES
£16.50

TRADITIONAL MEAT LOAF WITH HOMEMADE BROWN SAUCE,POTATO ROSTI AND CREAMED SPINACH
£9.95

CHILLI CON CARNE WITH RICE AND CHEESY NACHOS
£9.95

HANDMADE STEAMED VEGETABLE DUMPLINGS WITH SESAME AND CHILLI SOY
STARTER £5.95

ROAST BEEF AND YORKSHIRE PUDDING WRAP WITH ROCKET, HORSERADISH MAYO,RED ONION JAM AND ROAST POTATOES
£9.95
Table reservations please call: 710885
Lovely Stay
This was our second stay at the hotel and we would highly recommend it. The staff are efficient and friendly. The hotel is really clean and our bedroom was cleaned daily with fresh towels on request. We had a view of the garden and the sea. The food is excellent and we decided to eat there on three of the five nights during our stay.
TripAdvisor Review

Guernsey activities
There is always something to do in Guernsey. From visitor attractions to kayaking and surfing. Visit the nearby islands or join in with one of our Heritage, Cultural or Food festivals.

Free car parking
La Piette has car parking right outside the front door. Extra parking is available 200 metres away. All parking is FREE. Reception can also arrange car or cycle hire on your behalf.