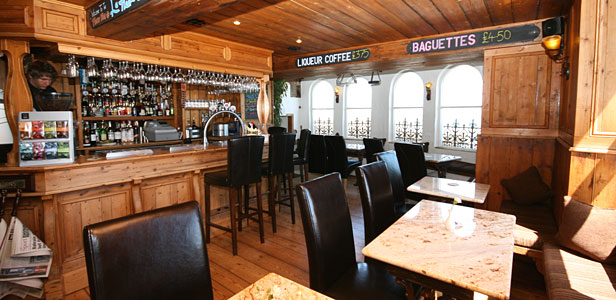 The Seaview Bar
Sip a glass of wine, a cocktail, or a pint of local beer and savour the informal atmosphere and wonderful views from the Seaview Bar at La Piette Hotel Guernsey. Overlooking the bay, every table has a different perspective.
Open all day and serving lunch and dinner daily specials including fresh fish, meat and vegetarian dishes the Seaview Bar Guernsey also offers a wide range of light snacks and fresh baked pizzas - cooked in authentic pizza ovens to your exact specification.
The Seaview Bar and Terraces are the perfect place to chill and watch the world go by. The freshly ground gourmet coffee is rumoured to be the best in town and the award winning Suki specialist teas make a refreshing change.
The Seaview Bar is a cosy rendezvous and a great place to meet the locals for a chinwag.


Cosy Inviting Bar
It is a short walk from downtown St Peter Port. The rooms are very nice, with good bathrooms en suite. There is a cosy and inviting bar off one side of the entrance and, to the other a very good restaurant . . . We were very glad we chose Le Piette. And we loved Guernsey.
TripAdvisor Review

Guernsey activities
There is always something to do in Guernsey. From visitor attractions to kayaking and surfing. Visit the nearby islands or join in with one of our Heritage, Cultural or Food festivals.

Free car parking
La Piette has car parking right outside the front door. Extra parking is available 200 metres away. All parking is FREE. Reception can also arrange car or cycle hire on your behalf.
Some images courtesy of VisitGuerney | Site by Bazil Media