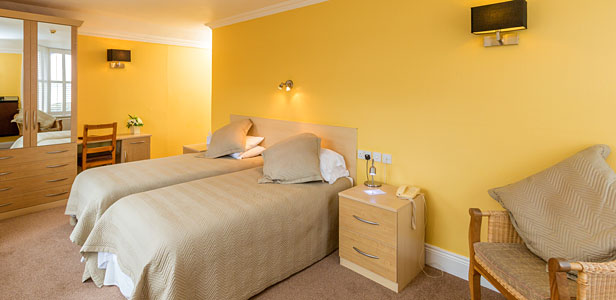 St. Peter Port Hotel Accommodation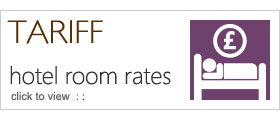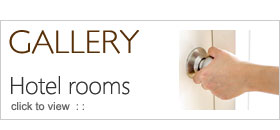 The 3 star La Piette Hotel Guernsey is situated on the St. Peter Port seafront overlooking Belle Greve Bay.
This family owned and run hotel has 24 bedrooms many with stunning sea views of the neighbouring Channel Islands and the French coast beyond. The sunrise from the hotel accommodation can be spectacular.
Each en-suite bedroom is individually styled and most have either a king size bed or two twin beds for single or double occupation.
Free WiFi is available in all public areas and bedrooms with sufficient speed to ensure fast download of files or films to your laptop tablet or mobile device without interruption.
All hotel accommodation at La Piette Hotel has Freeview television along with gratis Sky Sports, iron, hair dryer and coffee and speciality teas provided for your comfort.
• Standard Hotel Rooms
Standard rooms have a pleasing view of the courtyard garden or the inner courtyard.
• Superior Hotel Rooms
Superior rooms have sea views of the islands.
• Family Rooms
Family rooms are available with a double and a single bed and are large enough to accommodate a further single bed if required.
La Piette Hotel Guernsey is renowned for its friendly and welcoming hospitality. Many of our hotel guests have become friends and return time and time again to a service they know and trust.


4 Day Break
We stayed here for 4 nights, great hotel, the staff were friendly and helpful. The breakfast was very good and quickly served in small restaurant. We sat overlooking the garden most mornings lovely. Our room was overlooking the bay, clean, tidy and adequate we will definitely come back. Its only a 10 minute walk to town. Parking available too. The road outside is busy when everyone is going home from work and back in the mornings but this wouldn't put us off.
TripAdvisor Review

Guernsey activities
There is always something to do in Guernsey. From visitor attractions to kayaking and surfing. Visit the nearby islands or join in with one of our Heritage, Cultural or Food festivals.

Free car parking
La Piette has car parking right outside the front door. Extra parking is available 200 metres away. All parking is FREE. Reception can also arrange car or cycle hire on your behalf.
Some images courtesy of VisitGuerney | Site by Bazil Media